MSW Student Receives the NASW Consuelo W. Gosnell Memorial Scholarship
---
MSW Student Receives the NASW Consuelo W. Gosnell Memorial Scholarship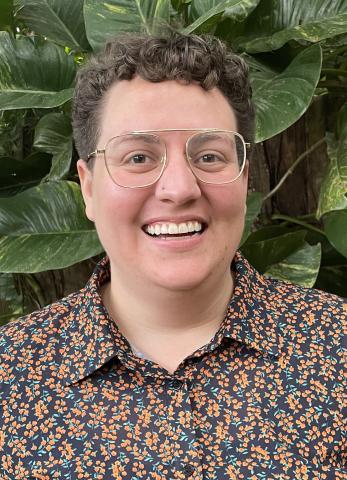 This year Margaux Herrera, a master's student in the College of Social Work's Online MSW program, was the first student at Florida State University to be awarded the Consuelo W. Gosnell Memorial Scholarship by the National Association of Social Workers. While looking for ways to financially support her social work education, she stumbled onto NASW's scholarships and decided to apply.
The scholarship was established to honor Consuelo W. Gosnell, a civil and human rights champion who worked diligently to improve conditions for critically underserved American Indian/Indigenous and Latino populations in the Southwestern United States. The scholarship in her name is awarded to MSW students who demonstrate a commitment to working with American Indian/Alaska Native and Hispanic/Latino populations along with a dedication to working with public/voluntary nonprofit agencies or local grassroots organizations in the U.S.
Not only did the scholarship ease a financial burden, but applying allowed Margaux to become more involved in her field. After receiving notice of her award, she became a student member of NASW. "I became involved with NASW because of the scholarship and I'm so glad that I did," expressed Margaux. "As a student member, I've had access to professional workshops on grief and trauma, self-care, and networking as a student, among other opportunities."
Margaux graduated from the University of Miami in 2014 with a degree in English Literature, French Literature and Language, but her interest in social work stemmed from trying to help her partner find an affordable and accessible autism assessment. "It was like looking for a needle in a haystack," she recalled. "I was so frustrated at both the lack of practitioners and at the cost of the ones I did find." Inspired to delve deeper, she looked into how someone becomes a clinical therapist in Florida.
"I discovered that social work was not only a viable route but one that really aligned with my values. I'm so happy I found it," Margaux said.
Finding the Online MSW program at FSU also gave her the convenience to pursue her Master of Social Work degree part-time remotely. Margaux not only received the NASW scholarship to support her graduate education but was also the recipient of four other scholarships this year.
Of note, Margaux received the Stephanie Nicole Ross Foundation Spotlight Scholarship, which supports a graduate student studying psychology, cognitive or behavioral science in Florida. She was also awarded the Salix Gastrointestinal Health Scholar Awards that support students with chronic gastrointestinal diseases or disorders pursuing higher educational goals along with two other smaller scholarships.
During her graduate program, Margaux made a commitment to her program and found a way to support her academic goals so that she can pursue social work licensure immediately after graduation. "Ultimately I hope to work as a clinical therapist focusing on adults with developmental disorders, especially autism spectrum disorder, as there is a lack of diagnosing practitioners for autistic adults," she explained. She also advises other social work students looking to cover some of the cost of their education to get organized and diligently apply for scholarships or grant opportunities with the help of a spreadsheet.
Wednesday, December 15, 2021 - 04:28 PM
Last updated:
Fri, 08/12/2022 - 04:11 PM