Social Work Faculty Elected as Society of Behavioral Medicine Fellow
---
Social Work Faculty Elected as Society of Behavioral Medicine Fellow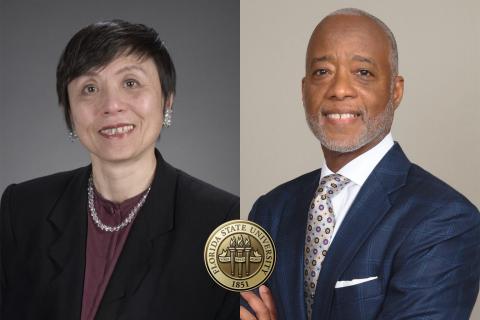 Amy Ai, a distinguished research professor at the Florida State University College of Social Work, has been selected as a fellow of the Society of Behavioral Medicine (SBM).
Established in 1978, the SBM emphasizes collaborations among behavioral, psychosocial and biomedical scientists. Ai joins Norman Anderson, professor and assistant vice president for research and academic affairs, as the only two current fellows of the society from the College of Social Work.
"It is my honor to be among the two social work members of the society recognized as an SBM fellow," Ai said. "Behavioral health represents an increasingly important area for interdisciplinary collaboration, including the field of social work."
The scope of the SBM has grown to include public health, social work, gerontology, sociology, health education, nutrition, kinesiology, integrative medicine, spirituality, and community organization among other disciplines.
"I am very excited that Dr. Ai has been elected as a fellow in SBM," said Anderson, who is a former president of the group. "For decades her research has carefully explored the connections between behavioral, psychological, social and biomedical factors in health and illness, which is the essence of behavioral medicine. Her election is also a recognition of the importance of a social work perspective in the context of interdisciplinary collaborations."
Ai's work is multidisciplinary and addresses stress, resilience and coping related to natural disasters, cardiac health and health disparities and equity.
"Social work focuses on many of the concerns related to behavioral health including community engagement, social determination of health, populations, health equity for the disadvantaged, as well as population well-being in relation to social justice, violence and trauma, and extreme climate change," Ai said.
After seeing multidisciplinary collaborations on National Institute of Health initiatives at many other universities with and without medical centers, Ai said she hopes FSU researchers are inspired to get involved.
"I hope that a growing representation of social work values and FSU interests, such as members and fellows of the Society of Behavioral Medicine, can encourage colleagues in social work and other disciplines to forge those alliances that result in high impact research," Ai said. "Research that translates into tangible improvements in health care, especially for vulnerable and underrepresented populations."
Friday, June 2, 2023 - 11:18 AM
Last updated:
Wed, 09/20/2023 - 03:06 PM