Social Work Faculty Receive Grants to Examine the Impact of COVID-19
---
Social Work Faculty Receive Grants to Examine the Impact of COVID-19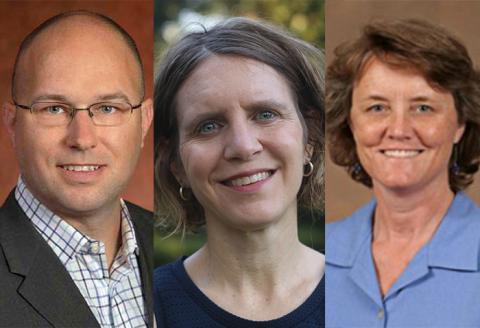 The FSU Office of Research Development organized its eleventh Collaborative Collison event to bring faculty from various departments across the university to work together on projects that specifically target the current COVID-19 pandemic.
"The crisis caused by the coronavirus has disrupted the world," said Vice President for Research Gary K. Ostrander in a recent FSU news article. He also emphasized that "researchers at Florida State have an obligation to use their specialized skills to help humanity's effort to mitigate the effects of the disease."
Typically, one or two projects shared during Collaborative Collision events receive seed funding for future projects, but "because of the unprecedented nature of this crisis, the Office of Research Development is funding as many high-quality proposals as possible." Each research project "related to health, social or economic impacts of the ongoing pandemic" will receive funding up to $20,000.
Three faculty at the FSU College of Social Work received funding to support their projects, including Dr. Michael Killian, Dr. Melissa Radey and Dr. Dina Wilke. Each faculty member received funding to support their research.

Dr. Michael Killian: Exploring Telehealth Interventions for Immunosuppressed Patients
Dr. Michael Killian's project seeks to develop and pilot a telehealth intervention for adolescents who have received a heart transplant. Needing immunosuppressant medication to prevent organ rejection is an extra challenge for these adolescents and their families during this pandemic. "Our ability to provide excellent patient care remotely is important considering COVID-19," he wrote in his research proposal. His project will examine the feasibility of implementing an asynchronous, mobile video directly observed therapy (mDOT). His plan includes a partnership with eMocha Mobile Health, Inc., a startup telehealth company incubated by John Hopkins School of Medicine, which developed the mDOT telehealth application. The mDOT enables healthcare staff to track dose-by-dose medication adherence for participating patients.
His project will assess this type of telehealth intervention in partnership with the University of Florida's Health Congenital Heart Center. Dr. Killian will lead an interdisciplinary team of researchers including Dr. Dipankar Gupta, assistant professor and pediatric cardiologist with the UF Health Congenital Heart Center, and Dr. Zhe He with the FSU College of Communication and Information.
"The current pandemic creates immense challenges for these adolescents and their parents," said Dr. Killian. "We want to work to promote their medication adherence, add additional support for these patients, and all while working with them remotely and safely. We're fortunate to have excellent partners and collaborators at the UF Congenital Heart Center and eMocha. Each of us is excited to make an impact on the care and support for these patients."
Contact Dr. Killian at mkillian@fsu.edu. 

Dr. Melissa Radey:  The Impacts of COVID-19 on Vulnerable Mothers and Their Children
Dr. Radey's project seeks to examine the economic, social, and health impacts of the coronavirus pandemic on vulnerable single-mother families. These particularly vulnerable families often exist in extreme poverty characterized by struggles related to employment, education and health. COVID-19 likely disproportionately and disparately affects single-mother families because of their over-representation in both disrupted service sectors (e.g., child care, hospitality, travel, retail) and as essential-worker sectors (e.g., certified nurse assistants). Social distancing restrictions may also create unique challenges as mothers struggle to maintain incomes and raise their children without spousal support.
The project will examine the effects of the pandemic on single-mother families in the Tallahassee/Big Bend region. It will gather perspectives on how COVID-19 has impacted mothers' interactions, relationships, functioning and health through semi-structured interviews. Through the project, Dr. Radey and her team hope to provide pilot data that will inform efforts to support single-mother families. Dr. Radey's research team includes co-Principal Investigator, Dr. Joedrecka Brown Speights, a professor with the FSU College of Medicine and social work graduate research assistants.
"Single mothers commonly face long days navigating transportation, child care, and employment. They delicately balance their responsibilities as mothers and providers. COVID-19 undoubtedly disrupts this balance," said Dr. Radey. "Determining how mothers are most affected can inform service delivery efforts to target and serve mothers effectively." 
Contact Dr. Radey at mradey@fsu.edu.

Dr. Dina Wilke: The Impact of COVID-19 on Health and Human Service Workers
"Frontline health and human service workers engage with clients facing heightened vulnerability during the COVID-19 pandemic," wrote Dr. Wilke in her project proposal. Despite continuing to work under a context of heightened client risk for COVID-19 infection and other related consequences, they were not included in the CARES Act as essential workers, potentially limiting access to necessary supports such as personal protective equipment and hazard pay.
Under typical circumstances, health and human services workers face high caseloads and burnout. Still, under the current circumstances, they must navigate new challenges to protect their health and that of their families and clients.  Dr. Wilke's project aims to conduct an accelerated analysis of qualitative data collected from interviews with health and human services workers to explore the impact of COVID-19 on their physical, emotional, financial well-being and professional responsibilities. Dr. Wilke's team will include Dr. Melissa Radey (co-Principal Investigator), Dr. Lisa Magruder and Dr. Anna Yelick, postdoctoral research fellows with the Florida Institute for Child Welfare housed at the FSU College of Social Work.
"I'm gratified FSU chose to support a project focusing on the experiences of human service workers, who are often on the frontlines of responding to acute client situations," stated Dr. Wilke.  "We need to understand how workers managed the needs for personal safety while providing effective client services."
Contact Dr. Wilke at dwilke@fsu.edu. 
Monday, June 15, 2020 - 04:15 PM
Last updated:
Mon, 08/03/2020 - 05:11 PM