Social work professor named fellow of national society
---
Social work professor named fellow of national society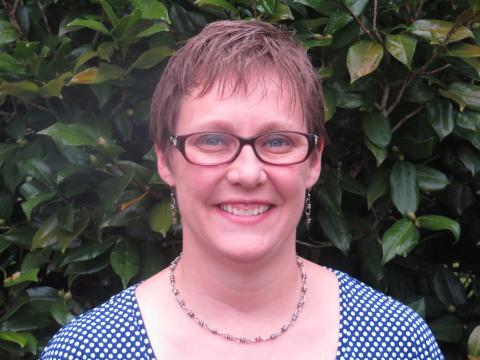 Lisa Schelbe, an assistant professor in the FSU College of Social Work has been named a member of the 2017 class of fellows of the Society for Social Work and Research (SSWR). 
This distinction recognizes members of the society who have furthered its mission – to advance, disseminate and translate research that addresses issues of social work practice and policy and promotes a diverse, equitable and just society. 
"I am honored to become a SSWR Fellow, and humbled that the recognition occurred early in my career. SSWR has played an important role in my development as a scholar," said Dr. Schelbe about this distinction. "In addition to exposing me to new research in different areas and providing an outlet for me to present my work, attending SSWR's annual meeting provides me opportunities to network with colleagues across institutions."
"SSWR can help social workers build strong academic careers conducting meaningful research that addresses important social issues," Schelbe remarked about her experiences with this professional social work organization. She continued, "SSWR Fellows have a commitment to SSWR members to prioritize mentoring and hold leaderships roles within the scientific society to strength the profession and to advance social work research."
Dr. Schelbe received her doctoral degree in social work from the University of Pittsburgh and received a Doris Duke Fellowship 2011-2103. She joined the Florida State University faculty in 2013 and has been an active, dedicated researcher and advocate in the field of child welfare, editing the Child and Adolescent Social Work Journal, which focuses on social work practice with children, adolescents, and their families that addresses current issues in social work drawn from theory, direct practice, research, and social policy. 
She is also the director of the CSW Arts & Athletics Camp that was founded by Dean Emeritus Nick Mazza to serve local youths, including those with limited social and economic opportunity, to learn and enhance leadership skills, academic achievement, socialization and life skills.
"SSWR's recognition of Dr. Schelbe is an astute appraisal of one of the very best young scholars in child welfare research," said Jim Clark, dean of the College of Social Work. "FSU is very fortunate to claim her as one of our own, as Lisa also is a great colleague and contributor to the life of the College and community."
Wednesday, January 4, 2017 - 09:27 PM
Last updated:
Fri, 07/13/2018 - 11:24 AM