Social Work Student Receives President's Humanitarian Award
---
Social Work Student Receives President's Humanitarian Award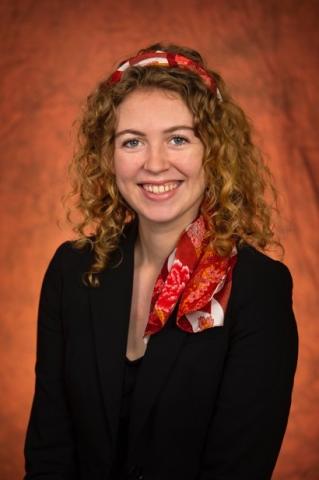 Undergraduate social work student Molly McQueeney, a junior from Sarasota in Florida, has been recognized as one of the 2020 recipients of the FSU President's Undergraduate Humanitarian of the Year Award. The award recognizes students who exhibit a tremendous commitment to service. Each school or college has one student recognized by this prestigious award.
"To meet Molly McQueeney is to meet a young woman who is not only a stellar student academically, but who is passionate about the work she does as an advocate for others," remarked Pam Graham MacDill, director of the BSW Program at the FSU College of Social Work.
Molly's commitment to human rights is what has driven her majors at Florida State, along with many of her extracurricular activities. As a double major in social work and economics with a minor in mathematics, Molly sees them as complementary in nature.
"The skills I've gained from the BSW program are essential for working directly with individuals affected by human rights issues. The social work code of ethics is key in human rights. Values like 'dignity and worth of the person' and 'social justice' are the core of human rights activism."
She stresses how important it is that her interest in macro social work is informed by her economic coursework. "Economics focuses on cost-benefit analysis and increasing productivity," Molly noted. "Economics gives me the knowledge to fight for funding for issues I care about and how to create and implement efficient processes and programs." She is also working on an honors thesis that focuses on the effectiveness of the U.S. and European resettlement policies in integrating refugees into local labor markets.
MacDill also noted that Molly's commitment through human rights is particularly significant in her level of volunteerism. "Molly's positive energy and advocacy for refugees is an inspiration to all that come in contact with her," reiterated MacDill.
Molly not only serves on the board of the FSU student organizations Darasa and Amnesty International, she serves regularly on a personal level with Darasa tutoring migrant and refugee K-12 students in Leon County and creating education opportunities for Amnesty International.
Molly's need to positively impact the lives of refugees has also moved beyond the boundaries of academics, FSU's campus, and the Tallahassee area. In the summer of 2019, she volunteered in a refugee camp in Chios, Greece. She helped to provide food, water and relief resources to families fleeing conflict in their home countries. She also worked with children in the camp.
Having recently been inducted into the College of Social Science's 2020 Social Science Scholars program, Molly is also hoping to attend a human rights seminar at Oxford University in the United Kingdom this summer. The program supports exemplary students and prepares them for research or service projects through leadership training and grant support. Although her summer plans are uncertain now, Molly is not deterred from her goals to improve human rights and the world around her.
"It can be really frustrating and disappointing to have all the things you're involved with to be canceled, especially when you are passionate about it," stressed Molly. "So many groups are posting videos, articles and other ways to stay informed in all sorts of areas of interest."
Molly indicated that she and friends with similar interests have been staying busy even during the corona pandemic, writing letters and emails to community leaders, hosting meetings to discuss developments on issues they would normally address on campus, and making creative projects related to these activities.  "Look into virtual ways to stay connected," she advised. "Don't become discouraged."
FSU Humanitarian of the Year Awards 2020 Virtual Ceremony
Dean Jim Clark announces Molly McQueeney at 9:20.
Thursday, April 16, 2020 - 05:15 PM
Last updated:
Tue, 06/02/2020 - 03:02 PM