Social Work Students Experience International Social Work Through Sweden Exchange Program
---
Social Work Students Experience International Social Work Through Sweden Exchange Program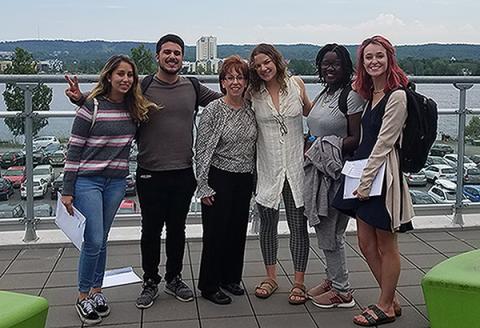 "An international study abroad experience can be both intimidating and exhilarating," said Pam MacDill, coordinator of the Exchange Programs at the FSU College of Social Work, as well as the Director of the BSW and Professional Development Programs. "Getting out of your comfort zone and being exposed to cultures, languages, and foods that are so different from home is an enriching experience."
Five FSU College of Social Work undergraduate students experienced an exchange with Jönköping University in Sweden during the summer. Traveling together, the students attended a class on global health with students from all over the world including Mexico, Hong Kong, Germany, and Canada. The course gave the students a unique perspective about health care systems from around the world.
"My favorite experience was getting to know the other international students through daily activities and excursions," explained Karma Kovacs, an undergraduate social work student from Ft. Lauderdale, Florida, about her personal experiences during the trip.
MacDill also noted that the students were able to gain insights into Sweden's social service system, in which social workers are held in high professional regard. They experienced the incredible diversity found in Sweden's local communities, as the country that has welcomed the largest number of refugees seeking asylum. Students enjoyed these experiences together but also on an individual basis, having to navigate a very different language and culture.
 "The most challenging thing about being abroad for me was grocery shopping," Karma articulated. "Everything in the store was labeled in Swedish. There were also times I felt alone or homesick, but I would encourage other students to study abroad. It is an experience like no other, one you could never experience by reading a textbook."
Learn about the exchange programs and other international program opportunities at the College of Social Work at https://csw.fsu.edu/ip
Tuesday, October 15, 2019 - 11:14 AM
Last updated:
Tue, 09/22/2020 - 02:04 PM