Spring 2020 Graduation Celebration Goes Digital
---
Spring 2020 Graduation Celebration Goes Digital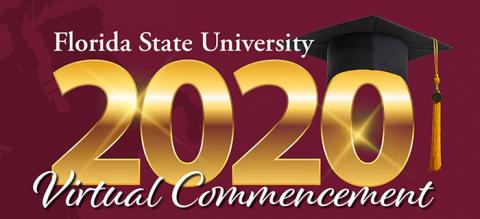 Celebrations for the spring graduating Class of 2020 went digital due to the social distancing practices necessitated by the coronavirus pandemic. Florida State University gathered virtually on May 2 for a virtual commencement ceremony presided over by FSU President John Thrasher. 
"The Class of 2020 will go down in history as the one that sacrificed so many of our cherished traditions so that we may all be safer," Thrasher said during the ceremony. "I hope you will look back upon this day with pride, knowing that you played a vital role in our response and eventual recovery."  
Florida State awarded degrees to 6,957 graduates this semester: 5,634 bachelor's degrees, 1,127 master's degrees, and 196 doctorates. Each college created its virtual celebration for its students. The College of Social Work created this video to celebrate #FSUCSW Class of 2020:
Along with graduates, the College of Social Work also recognized its 2020 award winners including:

Kanisha Scott - Elizabeth J. Piccard BSW Student of the Year
"She has been an important leader and visionary for the social work student association. This individual will do great things in the realm of social work," her nomination read.

Taylor Novak - Patricia V. Vance MSW Student of the Year
"Her consistent compassion and empathy towards her clients and her peers is unrivaled. With the Covid-19 crisis, she contributes to the school system by distributing food to the youth that rely on school lunches. In her schoolwork, she is intelligent and critical with all of the tools that were taught to the MSW students, tools with which she has already incorporated into her interventions in the field. Lastly, with her colleagues, she is always encouraging and kind," her nomination stated.

R. Lane Forsman - Doctoral Student of the Year
"As a fourth-year doctoral student, he has maintained his pace for program completion by successfully defending his dissertation earlier this semester while maintaining his connection to other students and professionals through lab and conference attendance.  His diligence in his research is commendable and acts as a navigational beacon to other doctoral students to continue their perseverance in the program! Also, he has maintained an active teaching load of multiple courses per semester, including challenging courses that require time and attention for instructional preparation, such as Statistics and Social Work Practice with Groups. His students consistently praise his efforts as an instructor of difficult course content, as evidenced by his nomination for the Outstanding Teaching Assistant Award for the 2019-2020 academic year. Lastly, his most notable achievement this year has been securing an Assistant Professorship in the Department of Social Work at Southern Illinois University Edwardsville," read his nomination.

Katherine Berry - Dianne F. Harrison Dissertation Proposal of the Year
The Dianne F. Harrison Scholarship is awarded annually to a social work doctoral student at Florida State University's College of Social Work for authoring the "Best Dissertation Prospectus." Katherine Berry wins this honor for her prospectus titled "Kids in context: A person-centered analysis of environment and engagement in residential treatment," which she defended in March of 2020.

Livia Ledbetter - Institute for Family Violence Studies Directors Award
"Livia has brought commitment, an impressive work ethic, and a great deal of joy to the Institute for Family Violence Studies. She has researched a wide variety of issues for our many projects, and she is known for her diligence, focus, and willingness to tackle difficult subjects," wrote IFVS Director Karen Oehme.

Etienne Mazimpaka - Field Educator of the Year
Etienne works for the Office of Public Defender Second Judicial Circuit of Florida, serving in the role of Juvenile Disposition Specialist/Big Bend Community-Based Care Court Liaison.  His primary role and expertise are in advocating for appropriate treatment of juvenile clients, rather than juveniles experiencing punitive measures and seeks to improve the lives of the marginalized children he serves. "Throughout the internship, we consistently felt as if his first and foremost concern was providing us with valuable experiences to help us become competent and effective social workers.  It is incredibly inspiring to see someone so genuine and hardworking in this field.  Etienne deserves the Field Educator of the Year award because he is both an amazing social worker and educator. He exemplifies and upholds all of the ethics and principles reflected in the social work profession," wrote his nominator.

MaKenna Woods - Instructor of the Year Award
"MaKenna was more than an instructor to our class of all women, and she cultivated confidence in us that we will need to go on to advocate for ourselves and our clients. McKenna Woods is a phenomenal instructor! As someone anxious to study statistics again, McKenna took the time to make sure I understood all the material and even calmed my anxiety. She truly cared about each student she had and went beyond the academic measures to make sure we were ok. Something as simple as checking in on us in regards to our everyday life went a long way because it showed that she cared about our wellbeing. She also made sure to include real-life examples and implications on how to use statistics. This made class engaging, and I was able to retain more information. She also used her own experience in the field to engage us, which showed her knowledge of subjects and increased her credibility as a professional and instructor," her nomination letter stated.

Carol Edwards - Professor of the Year
"Every time I have made contact with her during my journey for my master's degree, she has always been helpful, positive and supportive. Everyone wants to take her class. Everyone loves Professor Edwards. Thank you for being you and always loving and caring for your students. Carol is great, passionate and never stops caring about students, social workers and the community. Truly someone that makes you a better person just by being in her presence.  Through her position as the NASW President, she has served as a role model for all students. She is dedicated to diversity and child welfare, showing us how to utilize micro and macro practice to impact them," wrote her nominator.
Friday, May 15, 2020 - 12:57 PM
Last updated:
Tue, 01/26/2021 - 04:20 PM