Student Profile: BSW Student Margarette Swift
---
Student Profile: BSW Student Margarette Swift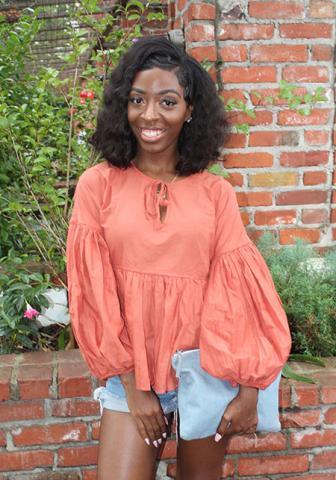 Margarette Swift might be young, but her advice comes from a place of wisdom when she says, "Never let circumstances determine who you are." When Margarette was only eight years old, her mother died. Following this traumatic loss, she endured many years of instability in her home life.
It wasn't until her best friend's mother adopted her that she finally found the security and encouragement she needed to thrive. When Margarette earned her first A, she and her family celebrated, but with this achievement came renewed, and higher, expectations. Her mom said, "Don't be surprised to earn an A. Get used to it, and be surprised if you don't!"
She realized her passion for helping others early on and realized that the best way to pursue that dream was to go to college. Margarette applied and was accepted to FSU through the Center for Academic Retention and Enhancement (CARE), which provides transition support for minority and underrepresented students entering FSU. Margarette's goal upon enrollment was to stay focused on her studies, manage time well, and sustain her motivation – and the CARE program has assisted her in doing so.
Margarette's good study habits were formed in high school. But, she knew she would benefit from additional mentorship to avoid the pitfalls that can come with being new to college life. As a student who had experienced a disrupted home environment, she was eligible to participate in the Unconquered Scholars program. Now a senior, her Unconquered Scholar mentor remains her trusted counselor. "I can go to her for just about anything," Margarette said. "She was the support I needed."
Margarette interests include working with women and children, and she hopes to make a positive impact on the foster care system. She also plans to continue her education after finishing her BSW, with hopes of completing her MSW at FSU.
"I love that at the College of Social Work no matter how hard a topic can get, the professors are good at letting us know that if we need to talk to them one-on-one, we can," Margarette said about the social work faculty. She also encourages others interested in social work to go for it, no matter what other people might say. "I want to help those who can't speak for themselves because I know what it feels like not to have someone."
Along with majoring in social work, Margarette is minoring in communication. She's already putting her communication gifts to work through her blog mjanayswift.com. "I've always felt I was meant to write," she said. And she has plans to turn her blog into a book with the hope of continuing to sharing her experiences with others. Margarette has only encouragement to offer anyone who wonders if they can turn a dream into reality. "The process was really hard, to be honest. But if I can do it, so can you!"
Tuesday, August 29, 2017 - 03:01 PM
Last updated:
Mon, 07/16/2018 - 02:05 PM