Study Examines Incel Terrorist with an Eye on Violence Prevention
---
Study Examines Incel Terrorist with an Eye on Violence Prevention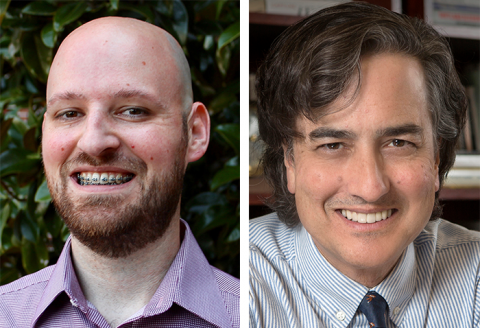 A study recently published in the Journal of Threat Assessment and Management, a publication from the American Psychological Association, examined the case of the sole perpetrator of Incel-related violence that took place in a Tallahassee, Florida yoga studio in 2018. The perpetrator opened fire on a Tallahassee yoga studio on November 2, 2018, injuring several and fatally wounding FSU student Maura Binkley and FSU faculty member Dr. Nancy Van Vessem.
The study was conducted by FSU College of Social Work doctoral student, Christopher Collins and Dr. Jim Clark, dean and professor of the college. Titled, "Using the TRAP-18 to Identify an Incel Lone-Actor Terrorist," the article uses case study methodology to provide a fuller description and deeper understanding of the case.
Collins and Clark used the Terrorist Radicalization Assessment Protocol (TRAP-18) to examine data they collected from multiple sources including criminal investigation reports, employment records, and personal video diary entries posted online.
The TRAP-18, created by Dr. Reid Meloy, is a threat assessment tool provided by the Global Institute of Forensic Research and designed to identify 8 proximal warning behaviors (e.g. pathway, fixation, identification, last resort) and 10 longer-term distal characteristics (personal grievance, ideological framing, mental disorder). The assessment may be used by mental health, intelligence, law enforcement, and security professionals to organize data on a person of concern to plan for threat management, particularly to reduce the perpetration of targeted violence.
"While research has been conducted on Incels and their lives online, as well as on violent extremism, there were no research studies analyzing Incels from a threat assessment perspective," explained Collins. "Threat assessment, when implemented well, has the potential to thwart acts of violent extremism."
Collins also views the study as a call to action for other researchers to provide and test tools to prevent mass violence. He hopes that the study will be a launching pad for other researchers to begin using similar assessments in their research on violent Incels.
Case studies like this have the potential to impact public policy by providing documentary evidence of violence against women and girls and to calibrate the need for policies to mitigate violence.
"People often had an image in their minds when they heard the word terrorism but recent acts of domestic terrorism may be changing that image," Collins elucidated. "This study, among others, has begun to challenge longstanding preconceived notions of what terrorism is and who perpetrates it. Threats of violence toward women and other hate crimes are evolving and we need to be actively engaged in terms of researching, understanding, and disseminating knowledge on this topic."
For Collins, this case holds special significance as a yoga instructor who practiced in the same space as the Tallahassee yoga shooting and who taught in a nearby studio. For him and many in the local community, the tragic incident left a wound that he felt compelled to try to heal in his own way. The attack provided a catalyst to pursue his doctoral degree in social work at the FSU College of Social Work to positively influence education and policy in the areas of mental health and violence prevention.
Collins, with the support of Dr. Jim Clark, a forensic researcher and subject matter expert, determined that the TRAP-18 assessment was a particularly useful tool when applied to lone-actor terrorism cases and was especially important to their research, as no such tool exists yet that focuses on violent Incels. Previous research, along with Collins and Clark's study, indicates the TRAP-18's capacity to identify risk factors in individuals inclined toward violent extremism.
The study was supported by the FSU-based Maura's Voice Research Fund, founded by Jeff and Margaret Binkley, the parents of shooting victim Maura Binkley. The organization focuses on both analyzing policy related to hate crimes and gun violence, particularly toward women, as well as supporting research that further targets understanding mass violence and prevention.
"The Maura's Voice Research Fund is especially focused on violence against women, especially as it pertains to hate crimes and gun violence. A large number of women are killed by former or current intimate partners" said Jim Clark. "Research like this can help move the needle toward preventing and ending hate crime violence."
More research in this area is planned by Collins, Clark and collaborators, including the aim to study a larger sample of violent Incels using the TRAP-18 to further examine its effectiveness on assessing Incel lone-actor terrorists.
"If we've learned anything from this case and similar cases it's that violence against women continues to be a serious and significant problem that we need to work harder to ameliorate," stressed Collins. "A major theme identified in our study was the limited action of officials that were taken to impede the perpetrator. This was typically due to the lack of laws and policies that would facilitate prevention. Looking toward the future, we have to examine the processes of official agencies, such as law enforcement, and partner with them to develop and refine threat assessment and management protocols that work for them."
To learn more about the study, contact Christopher Collins at cjc11e@my.fsu.edu. To learn more about, or support the Maura's Voice Research Fund at https://csw.fsu.edu/research/mauras-voice.
FSU Faculty, Students and Staff may access the article free at https://psycnet.apa.org/fulltext/2021-82669-001.html. 
Tuesday, October 19, 2021 - 08:22 AM
Last updated:
Wed, 01/19/2022 - 04:07 PM