Study Explores the Power of Hope Following Hurricanes Maria and Michael
---
Study Explores the Power of Hope Following Hurricanes Maria and Michael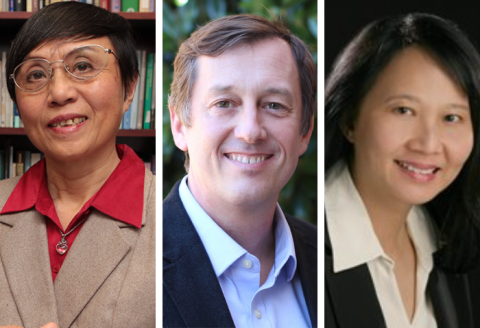 As Hurricane Ian devastated Florida last month, many Floridians were reminded of similar damage caused by Hurricanes Maria (2017) and Hurricane Michael (2018). A study by Florida State faculty members Dr. Amy L. Ai and Dr. Arthur A. Raney, along with Dr. Hoa B. Appel (University of Washington), recently published in Natural Disaster Research, examined the traumatic impact of those hurricanes on survivors living in Florida. The major takeaway for victims of Ian: Try to be hopeful.
The researchers examined whether positive character traits, like hope, optimism, and altruism, could protect hurricane survivors from posttraumatic stress and boost their posttraumatic growth. Their analysis adjusted for the influence of coping strategies, hurricane-related stressors, and immediate emotional responses during the disaster.
"The major finding was that character strength hope was positively associated with greater growth and lower symptom levels of posttraumatic stress," said Dr. Ai, a professor in the College of Social Work and an affiliate of the Institute of Successful Longevity. "This supports previous studies identifying hope and optimism as beneficial for survivors of man-made disasters, such as 9/11. But ours is the first study to replicate these findings following a natural disaster."
The passage of time was also found to be beneficial to survivors. Posttraumatic growth increased and stress decreased the more days between the hurricane making landfall and the participant completing the online survey.
"Ultimately, hope and optimism may allow survivors to achieve greater psychological growth out of the adversity and struggle caused by a hurricane, but it may take some time," explained Dr. Raney, a professor at the College of Communication and Information.
However, the study also revealed just how complex survivor experiences could be. For example, survivors who reported more hurricane-related stressors like losing their job experienced more posttraumatic stress and more posttraumatic growth. Further, although hope was associated with more growth, the researchers found that altruism was related to more stress.
"Posttraumatic stress and growth are both borne out of struggle. Because of this, the experiences leading to each outcome are often interrelated," said Ai. "Importantly, this study shows just how complex survivor experiences following traumatic events can be and how both traumatic stress and growth can occur simultaneously," concluded Dr. Ai.
The researchers called for further investigations of survivor experiences following man-made and natural disasters to better understand the short- and long-term impacts of trauma and the factors that could be leveraged to aid in recovery efforts.
Wednesday, October 19, 2022 - 01:27 PM
Last updated:
Mon, 02/06/2023 - 03:49 PM