Two FSU Social Work Alumnae Among FSU's 2018 Notable Noles
---
Two FSU Social Work Alumnae Among FSU's 2018 Notable Noles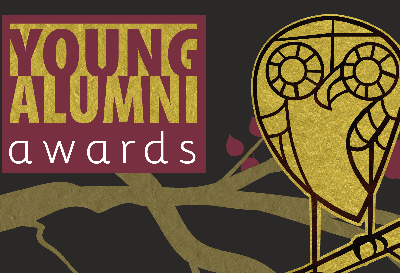 The FSU Alumni Association honored its 2018 cohort of Notable Noles and its three 2018 Reubin O'D. Askey Young Alumni Award recipients in November at their annual Young Alumni Awards Dinner. Among this year's Notable Noles are two FSU College of Social Work graduates, Sabrina Kinslow, and Tiffanie Williams.
"These recognitions are especially meaningful because the three recipients are chosen from a distinguished group of peers," said Julie Cheney, president, and CEO of the FSU Alumni Association. "These young alumni have distinguished themselves as leaders in their professions. Their hard work and determination are an inspiration and a testament to the values of Florida State University."
Notable Noles (formerly the Thirty Under 30) program was created to recognize the outstanding accomplishment of FSU's young alumni. Each recipient under the age of 35 years old has made exceptional achievements and significant contributions to their profession, community, society or the university. Recipients exemplify outstanding professional and personal development through both traditional channels and innovative approaches.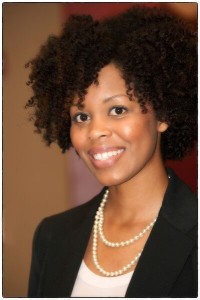 SABRINA KINSLOW
Sabrina Kinslow is a two-time graduate of FSU, receiving her bachelor's degree in 2007 and her MSW degree in 2018. She has dedicated her career to advocating for and serving underrepresented populations. Recently she moved to Dallas, Texas where she serves as a manager for the Blind Children's Program under the Texas Health and Human Services Commission. Before this position, she worked with the Junior Achievement (JA) of North Florida in Jacksonville for five years with the JAGirls Initiative. JAGirls provides financial literacy and career readiness programs for girls in kindergarten through twelfth grade.
Sabrina created and implemented the inaugural Day of the Girl in 2016, an initiative aiming to provide a holistic, girl-centered approach to the JA concepts of financial literacy, entrepreneurship, and career readiness. In its first year, the event served 220 girls and had become an annual event for the organization. Also, before stepping into the position of JAGirls program coordinator role, she was hired by JA in 2013 to develop a satellite office in Clay County, an area incorporating five townships. In less than two years, the satellite office served more than 3,000 students and placed more than 100 trained volunteers in schools across Clay County. She credits her success in this venture to the grant and partnership provided by Mass Mutual.
Before working with JA, Sabrina worked for six years in child welfare with the Florida Department of Children and Families in multiple roles. She was designated as both a human trafficking subject matter expert and domestic violence subject matter expert. She also served on planning committees with Jacksonville Urban League, Youth Crime Prevention Task Force (2009), Men's Health Coalition, Inc. Man Up Health Summit from 2014 into the present.
In 2014, she served as a founding board member of the Clay Women's Empowerment Council, a professional women's network under the Clay County Chamber of Commerce; and, as their support and development chair created a grant program for women-owned small businesses and women returning to the workforce or pursuing educational goals. And, in 2015 Sabrina she joined the Early Education Initiative – Ten Parents in Child Welfare Taskforce as a part of the Jacksonville Youth Leadership Summit.
Her accomplishments have been recognized for her accomplishments as a Top 20 under 40 Black Professional in Jacksonville by Black Pages, USW & Black Expo, Inc. and as a graduate of the Beaches Emerging Leadership Program facilitated by the Nonprofit Center of Northeast Florida.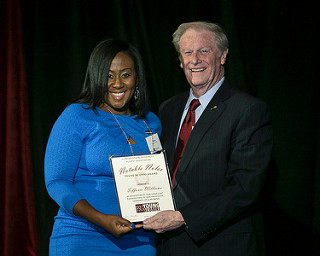 TIFFANIE WILLIAMS
"I am so honored to have been chosen as a recipient of FSU Alumni Association's Notable Nole Award. I hope through this recognition I have and will inspire others to serve their communities, strive for greatness, and live out their purpose," said Tiffanie.
Tiffanie Williams is the first member of her family to graduate with a college degree. She is a two-time graduate of Florida State including a bachelor's degree (2004) and MSW degree (2008), along with a doctoral degree from Nova Southeastern University.
She is a licensed clinical social worker in Florida and has been providing mental health services for more than nine years. Recently she began her private practice, MasterPeace Counseling Services, LLC.
Tiffanie is  dedicated to lending her time and talents to community efforts on local and international levels. For the past eight years, she has been a volunteer mentor with the Big Brothers Big Sisters of Northeast Florida. Other roles have included feeding the homeless with the Clara White Mission, served as an ambassador for the Northeast Florida AID Network Dining Out for Life event, and spearheading a self-esteem group at Dr. Nembula High School in Adams Mission, South Africa (2009).
The experience of losing her son Liam at birth led her to combine her pain and professional to establish the Liam Lives, Foundation Inc., a faith-based non-profit charitable organization. Liam Lives seeks to provide counseling and support service to families suffering from pregnancy and infant loss due to miscarriage, stillbirth, neonatal and post-natal death. Through this organization, many families have received counseling and group support services, financial assistance, and education on the impact of loss and infant death on mental health, family and community. The organization has made an impact on families at local, national and international levels including families in Jamaica, Haiti, Italy, India, Kenya, and South Africa.
Tiffanie has been recognized for her contributions via several awards, including The Women's Center of Jacksonville Unsung She-Ro Award (2018); Jacksonville Jaycees Community Humanitarian Award Honoree (2017); Powerful in Pink Honoree (2017); the Child Guidance Center's Arlington Outpatient Team Member of the Year Award (2014); as a Florida Black Pages' Top 20 Under 40 Honoree (2014).
Wednesday, December 12, 2018 - 11:57 AM
Last updated:
Fri, 06/14/2019 - 11:33 AM