Social Work Professor Receives University Graduate Teaching Award
---
Social Work Professor Receives University Graduate Teaching Award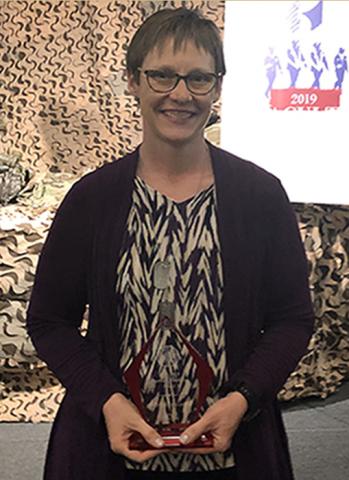 Assistant Professor Lisa Schelbe was one of eight Florida State University faculty members to receive a University Teaching Award at the end of the spring 2019 semester. Recipients are recognized as outstanding in the many aspects of teaching, which contribute to successful learning. These teaching awards are student-oriented, with nominations submitted by both current FSU students and alumni.
Dr. Schelbe received a Graduate Teaching Award. During the spring she taught two graduate level courses and a cross-listed graduate and undergraduate course. Her Child Maltreatment and Child Welfare class is an elective course that focuses on developing students' knowledge and skills related to the theory, research and implications of child maltreatment. In her Human Behavior in the Social Environment course, students learn about human development over the life course using theories relevant to social work. And finally, in Qualitative Research Methods course, Dr. Schelbe instructs doctoral social work students in five different qualitative methods using in social work research.
"My approach to engaging students is to make the course material relevant to students' lives," said Dr. Schelbe. "I strive to make examples relevant, heavily relying on current events and examples when possible. I also incorporate my practice and research background throughout the classes."
Through her own research, Dr. Schelbe specializes in various topics related to child welfare, including at-risk youth and youth aging out of foster care. She works extensively with other social work faculty and the Florida Institute for Child Welfare, housed by the College of Social Work. She has also run the College's Arts & Athletics Camp for three years, which serves youths in the Big Bend Region of Florida including youths experiencing limited social and economic opportunities.
Dr. Schelbe is a dedicate and popular instructor at the FSU College of Social Work. She was elected the College's Professor of the Year in 2018 and 2016 by the social work student body. She takes her role as a social work educator and researcher seriously, knowing that she is educating the next generation of social work practitioners and academics continually evaluating her own teaching practices and approaches through self-assessment along with colleague and student assessments.
"As a teacher, I believe my role is to expect and nurture excellence. As a teacher, I cannot simply have high expectations. I am responsible to help students understand and achieve these standards," she explained. "I seek to inspire my students to think critically and challenge them to grow both intellectually and personally."
By grounding her course materials within the larger sociopolitical environment, she stresses the importance of context to her students. She sees it as her goal to help students connect what they learn in the classroom to the rest of their lives and their profession.
Monday, May 20, 2019 - 09:45 AM
Last updated:
Fri, 01/24/2020 - 04:01 PM