$1.67M NIH Grant Brings Medication Support to Florida Pediatric Heart Transplant Patients
---
$1.67M NIH Grant Brings Medication Support to Florida Pediatric Heart Transplant Patients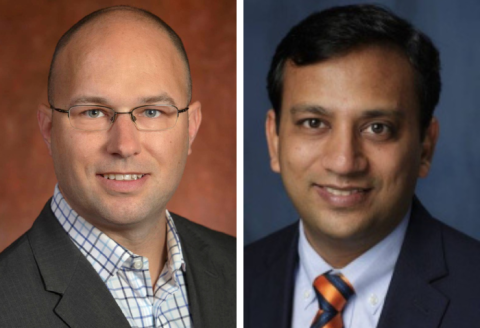 Children who need life-changing heart transplants in Florida will be able to receive free support to help improve medication adherence, which can potentially reduce the frequency of organ rejection over the next two years, thanks to a National Institutes of Health (NIH)/National Heart Lung and Blood Institute (NHLBI) Small Business Innovation Research (SBIR) award for $1.67M to Scene Health (formerly emocha Health), a leading video medication adherence platform.
The project will be led by Dr. Michael Killian, associate professor at the Florida State University College of Social Work, and Dr. Dipankar Gupta, an associate professor and pediatric transplant physician at the University of Florida's Congenital Heart Center.
As the principal investigators, Dr. Killian and Dr. Gupta will lead the joint project enabling pediatric transplant physicians in Florida to deploy Scene's platform to provide personalized interventions to improve overall medication adherence to immunosuppressive therapy, prevent related hospitalizations, and reduce the potential of rejection among adolescent heart transplant patients.
This significant NIH award is the first major project from the recently launched Initiative for the Advancement of Pediatric Transplant Health Research through the Center for the Study and Promotion of Communities, Families and Children, housed at the FSU College of Social Work. The initiative taps into a statewide network of health researchers, clinicians and pediatric heart transplant centers.
The project has utilized the collective strengths of an interdisciplinary research team, including Dr. Mia Lustria, a Florida State's School of Information professor, to tackle this complex problem. Dr. Paolo Rusconi, University of Miami (UM) Miller School of Medicine and Miami Transplant Institute at Jackson Health, and Dr. Svetlana Shugh, Joe DiMaggio Children's Hospital, will lead the research efforts at their individual pediatric heart transplant programs.
Medicines that modulate the transplant patients' immune systems can help the body fend off organ rejection, which is a crucial risk. Teens, in particular, have difficulty adhering to the regimen. The grant will build on the published findings of a 12-week pilot study to assess the feasibility, acceptability and efficacy of using video DOT (Directly Observed Therapy) to help adolescent heart transplant patients track and improve adherence.
The pilot study found that those who completed the program had a 90.1% adherence rate. For comparison, five of the six patients who did not begin video DOT or dropped out of the study were hospitalized or experienced episodes of acute organ rejection. This grant will allow the investigators to perform a randomized control trial to assess the impact of video DOT on a larger scale and across multiple pediatric heart transplant centers.
"This grant represents an important integrative and patient-centered approach to improving the lives of vulnerable patients experiencing challenges adapting to a complex treatment regimen, including adolescent heart recipients and their families," Killian said. "Adolescent patients who have received a heart transplant often show challenges taking their medications, preventing organ rejection and failure following the transplant. We know improving their medication-taking practices can improve their quality of life and reduce the risk of poor post-transplant health outcomes. The Scene Health mobile health app and intervention leverage technology and patient-centered engagement to improve medication-taking practices and inter-personal support."
Medication adherence is critical for pediatric heart transplant patients, especially adolescent patients who struggle to take their medications consistently, often due to social factors. Failure to adhere to the medication regimen can result in the rejection of the transplanted heart, leading to hospitalization or even death. Despite potential catastrophic consequences, nonadherence rates are as high as 60% in teenage patients.
"This NIH grant will allow Scene Health to expand our efforts to support medication adherence in one of the highest-risk patient populations," notes Sebastian Seiguer, co-founder and CEO of Scene Health. "Our video medication adherence platform uses a format young people are accustomed to — video engagement — to empower them to take control of their health, and our clinical pilot study showed it makes a real difference in their outcomes."
Scene's mobile app allows patients to connect with a care team of pharmacists, nurses, and health coaches through asynchronous daily video check-ins anytime and anywhere. Scene makes it fun for patients to stay on top of their medications, helps them address any medication challenges, and empowers them to improve their health by identifying and addressing barriers to adherence related to social determinants of health.
Co-Principal Investigator of the new project, Dr. Gupta, added: "Use of video medication adherence platforms has the potential to ultimately improve outcomes for pediatric heart transplant patients, particularly adolescent patients who often struggle to stick to medication regimens. We are excited to see this technology supported and expanded throughout Florida."
The grant announcement comes on the heels of the CDC endorsement of video Directly Observed Therapy (video DOT) equivalent to in-person DOT for tuberculosis treatment. With roots in ​​using video DOT to secure adherence for tuberculosis and hepatitis C patients, Scene has now expanded to support patients across multiple chronic and infectious conditions, including diabetes, asthma, cholesterol, opioid use disorder, hepatitis C, tuberculosis, hypertension, solid organ transplants, and sickle cell disease. Scene's approach has been validated in over 12 clinical research studies across 19 peer-reviewed publications. At least 25 independent research studies and trials are completed, underway, or planned using Scene's platform to secure adherence.
To learn more, contact Dr. Michael Killian at mkillian@fsu.edu.
Friday, April 14, 2023 - 02:45 PM
Last updated:
Wed, 09/20/2023 - 03:06 PM