Faculty Highlight: La Tonya Noël, A Focus on Child Trauma and Wellbeing
---
Faculty Highlight: La Tonya Noël, A Focus on Child Trauma and Wellbeing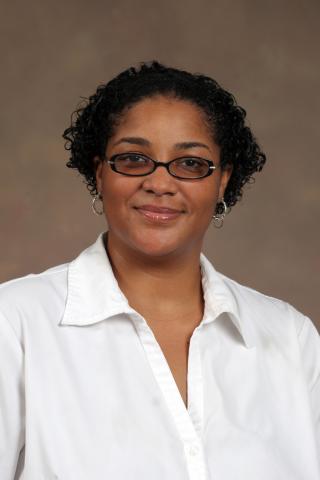 Dr. La Tonya Noël began her career at the College of Social Work in 2007 as an assistant professor and was promoted to associate professor with tenure in 2014. She became the first Black woman to earn tenure at the college since its accreditation in 1950.
She completed a bachelor's degree in psychology (1998) and a dual master's degree in school counseling and social work (2001) from California State University - Fresno. She became interested in social work thanks to a community service scholarship experience as a student with a clinical social worker that gave her an understanding of school social work. "I developed an appreciation of its holistic approach to working with clients, especially its inclusion of the environment as a critical component of client wellbeing," she explained.   
As a master's student Dr. Noël worked on two research projects with faculty mentors who also noted her strong research skills and critical thinking, especially her ability to formulate important research questions.
Dr. Noel was truly inspired to pursue a career in academia and research after her repeated encounters with a lack of resources and evidence-based treatments for Black and indigenous people of color during her time as a school social worker. When she raised concerns about these serious gaps in service, she was told to utilize current treatments lacking efficacy. "I think I probably would have never gone for a PhD in research had I not hit those walls," recalled Dr. Noël.
Dr. Noel graduated with her doctoral degree in social work (2007) from the University of Texas at Austin School of Social Work with a keen research interest in trauma, particularly in finding ways to mitigate the impact of trauma on children. Her current research examines the mechanisms by which trauma-informed, trained professionals can improve learning environments for children affected by trauma. This includes an interest in academic safety in school settings, a topic of great concern in recent years, and how being trauma-informed as an education professional can impact learning outcomes for students.
In her role as an associate professor, Dr. Noël's responsibilities include teaching, research and service. As a social work educator, she primarily teaches courses in clinical practice, preparing students for direct practice with individuals and families. This includes a trauma-informed social work practice course she developed and has been teaching for the past three years. Dr. Noël's course was the first of its kind not only within the College of Social Work but university-wide.
Dr. Noel's expertise in trauma has also been utilized by the Florida Institute for Child Welfare and fellow social work faculty to refresh child welfare and other related social work practice courses to include trauma-related content and active learning methodologies.
An active member of the College of Social Work, Dr. Noel serves on several college committees. She is also the faculty advisor for the Phi Alpha Social Work Honor Society and has served in this role for over 12 years. As a mentor, she assisted the honors organization with being recognized at Florida State University as a registered student organization and establishing a leadership and management structure.
Although a professed clinician at heart, Dr. Noël enjoys contributing to the expansion of evidence-based and trauma-informed social work practice, especially practice impacting children. Her research has stressed the importance of developing culturally specific trauma assessment as older trauma assessment tools are unable to assess trauma experiences through a cultural lens, particularly people of color or immigrants.
Recognizing the danger of the "one size fits all" approach, she and colleagues in the field of trauma are bringing attention to these gaps in services and treatment in order to improve tools and outcomes for clients. Dr. Noël has also addressed working with clients in her research to strengthen the help-seeking behavior of individuals who are challenged by trauma-related conditions.
One of her favorite projects she has worked on has been with teachers at Title One schools in Leon County, Florida. She provides training for these teachers on trauma-informed practices as well as how trauma impacts children's brains, neurological development and learning abilities. Dr. Noël also works with teachers to incorporate classroom techniques that mitigate trauma on learning to improve children's educational outcomes. During the pandemic, she was particularly focused on developing multimedia and interactive training for teachers. She is also supervising a doctoral student project on developing additional trauma-informed training for parents.
Outside of Florida State, Dr. Noël and her family are passionate about being together on or near the water, enjoying paddle boating, canoeing and swimming.
Monday, November 15, 2021 - 09:07 AM
Last updated:
Thu, 12/02/2021 - 04:20 PM