FSU Pilot Project Addresses Reducing Chronic Disease Among Rural Adults
---
FSU Pilot Project Addresses Reducing Chronic Disease Among Rural Adults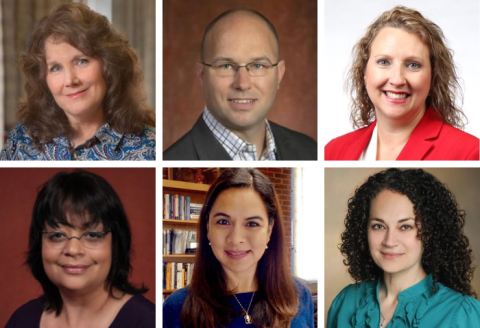 An UF-FSU Translational Health Research Seed Grant was recently awarded to an interdisciplinary team of Florida State University faculty for a study to address chronic disease in rural populations. The pilot study will test the feasibility and acceptability of a chronic disease risk reduction program among rural adult participants.
The project includes health experts from across FSU's campus including Dr. Laurie Abbott and Dr. Lucinda Graven (College of Nursing), Dr. Michael Killian (College of Social Work), Dr. Jessica De Leon (College of Medicine), Dr. Mia Lustria (College of Communication and Information) and Dr. Jennifer Lemacks, a consultant from the University of Southern Mississippi College of Nursing and Health Professions.
Chronic diseases, such as heart disease, diabetes and cancer significantly impact public health. The numbers of people diagnosed with chronic diseases are expected to rise in the future with subsequent increases in mortality rates, effects on quality-of-life and health care costs. Populations living in rural areas are disproportionately affected by chronic disease and more likely to engage in unhealthy lifestyle behaviors that contribute to or exacerbate chronic illnesses.
The research team hopes that the web-based intervention tested through the study can decrease geographic challenges to health promotion and disease risk reduction for people living in remote areas. The hope is that the study will also lead to improved lifestyle choices and behaviors among participants that can reduce the development, progression and exacerbation of chronic diseases.
"This study demonstrates the value of FSU, our College of Nursing, and interdisciplinary partnerships across the university. I know we can make an impact regionally and then build from there," said Dr. Killian, an associate professor with the FSU College of Social Work.  "Digital health interventions have tremendous potential to bridge the gap between individuals and their medical care teams by bringing the medical care better into their lives."
The study will be completed in two-phases to assess the viability of recruiting and retaining participants and the delivery of the web-based intervention. Through the second phase, the study will complete a randomized controlled trial of the intervention versus a control group. Through both phases of the study, surveys will measure participants' attitudes, norms, and intentions regarding dietary outcomes and physical activity, as guided by the theoretical framework for health behavior change used by the study.
Other variables that will be measured include social support, health knowledge and habits, sleep, stress and well-being. Participants will also assess the feasibility and acceptability of the intervention via qualitative interviews.
Considering interrelated psychosocial factors can give a clearer understanding of the factors that may act as barriers or supports for participants moving toward improved health outcomes and reduced risk of chronic illness.
"I am grateful to receive this $50,000 grant because it is an important stepping stone for the project to gain further funding from the National Institute of Health [NIH]," said Dr. Abbott. "This project furthers NIH''s initiatives to utilize evidence-based approaches to serve underserved communities to potentially improve health outcomes and to evaluate emerging digital health interventions to improve accessibility to available tools and support."
Friday, October 7, 2022 - 08:54 AM
Last updated:
Mon, 02/06/2023 - 03:49 PM