Institute for Family Violence Studies Team Receives Association of Family and Conciliation Courts Award
---
Institute for Family Violence Studies Team Receives Association of Family and Conciliation Courts Award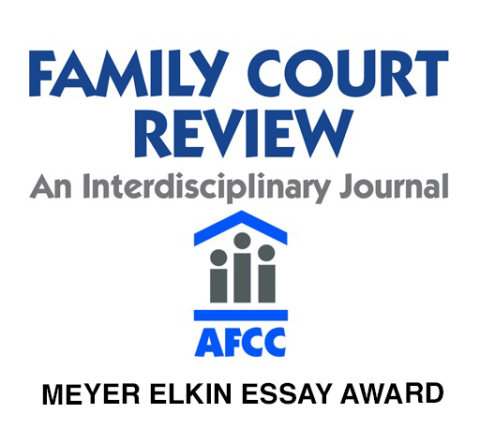 The staff of the FSU Florida Institute for Family Violence Studies (IFVS) at the College of Social Work were awarded the 2022 Meyer Elkin Essay Award by the Association of Family and Conciliation Courts (AFCC). The award is given annually to the authors of the best article for each volume of the association's journal, the Family Court Review.
The article "Online Virtual Supervised Visitation During the COVID-19 Pandemic:  One State's Experience," was published in the January 2021 issue of Family Court Review (Volume 59, Number 1) and was authored by IFVS Director Karen Oehme and staff members, Kelly O'Rourke and Lyndi Bradley. 
The paper focuses on an IFVS study of how over 20 supervised visitation programs in Florida met the challenge of rapidly transitioning from in-person to virtual supervision during the COVID-19 pandemic in order to protect families and staff. The IFVS operates the Clearinghouse on Supervised Visitation under a grant from the Florida Department of Children and Families.
"Our research showed that most programs had no prior protocols or policies in place regarding disaster planning or virtual visits, but were within weeks providing just that," explained Karen Oehme, director of the institute. "Supervised visitation programs acted quickly to ensure children and non-custodial parents were able to maintain those critical parent-child relationships safely."
Interviews with program directors and staff during the study revealed lessons learned and the advantages and disadvantages of virtual visits, many unexpected. As may be expected, the general reaction of parents and children to the transition from in-person to virtual visitations was frustration and distress at the lack of physical contact. Adults struggled the most with the transition to virtual visitations, with a majority of children over age 3 being less inhibited in finding the transition easier. There were also the expected struggles with technical difficulties and adapting to limitations related to time and resources.
From the programs' perspectives, virtual visitations included some unexpected benefits. The shutdown allowed visitations to be scheduled during more daytime hours rather than only after school, made visitations more accessible and often let parents experience their children's current home environment and activities. There was also a marked reduction in no-shows and cancellations, along with a better ability to reschedule. The ability to address safety concerns was also notably easier with virtual visitations, including the facilitation of staff to control conflicts with interventions like virtual waiting rooms, privacy upheld with virtual backgrounds and better facilitation of co-parenting through increased communication and visibility.
"A main takeaway of the study is that virtual visitations are here to stay," expressed Kelly O'Rourke, research associate of the IFVS and director of the Domestic Violence Coordinating Council in Tallahassee, Florida. "Program directors noted the ability for virtual options to not replace in-person visitations, but rather to be used as a complementary means by which parents can stay in touch with their children."
The IFVS's program manager Lyndi Bradley also noted that virtual platforms will remain a necessary component of family courts and the organizations serving families. "We will continue to see change with how virtual tools and platforms are utilized," she said.
The study concluded that family court programs and organizations will continue to be faced with the need for various means of helping their clients, addressing disaster planning and how it relates to supervised visitation. Directors and organizations will need to continue to plan for disruptions in services and to be prepared to address those needs.
Oehme and her team will be presented with the award at the Association of Family and Conciliation Courts Annual Conference this month in Chicago, Illinois.
Wednesday, May 4, 2022 - 12:45 PM
Last updated:
Thu, 05/25/2023 - 04:53 PM