Leader in Criminal Justice Research joins FSU Social Work faculty
---
Leader in Criminal Justice Research joins FSU Social Work faculty
Social work researcher, Carrie Pettus-Davis, joined the FSU College of Social Work faculty this summer to continue the research she started at the Washington University in St. Louis on criminal justice and prison reform.
On May 18th, Pettus-Davis attended a high-profile summit on federal prison reform at the White House.  She helped to inspire the summit and called it "a message to the world that the United States is ready to change how it does incarceration." The summit was an effort to gather bi-partisan support for prison reform nationwide. "The rhetoric alone is a game changer in a positive way," Pettus-Davis stated.
Dr. Pettus-Davis is also co-leading the Smart Decarceration Initiative, one of the 12 Grand Challenges of Social Work, that seeks to transform criminal justice in the U.S. by reducing the population of incarcerated individuals, resolving the social disparities among incarcerated populations, and maximizing public safety and well-being. 
At Florida State, Pettus-Davis is the founding director of the newly established Institute for Justice Research and Development, which utilizes a diverse funding portfolio to spearhead her research on improving the well-being and outcomes of individuals and families who become involved in the criminal justice system.
Pettus-Davis and her team have already begun a research project that will include more than 2200 participants in urban and rural counties at 12 sites across Florida, Texas, Pennsylvania and Kentucky. She is eager to share the findings of these research efforts with constituents at both state and federal levels, with the goal of influencing policy and promoting positive change in U.S. prisons.
Other future projects include:
Prevention in prosecutor's and public defender's offices
Clinical trials of mental health and substance use disorder treatment
Sequencing of reentry and treatment interventions
Gender-responsive trauma treatment for men and women
Policy reform research
Advocacy through training of new minds including current and future professionals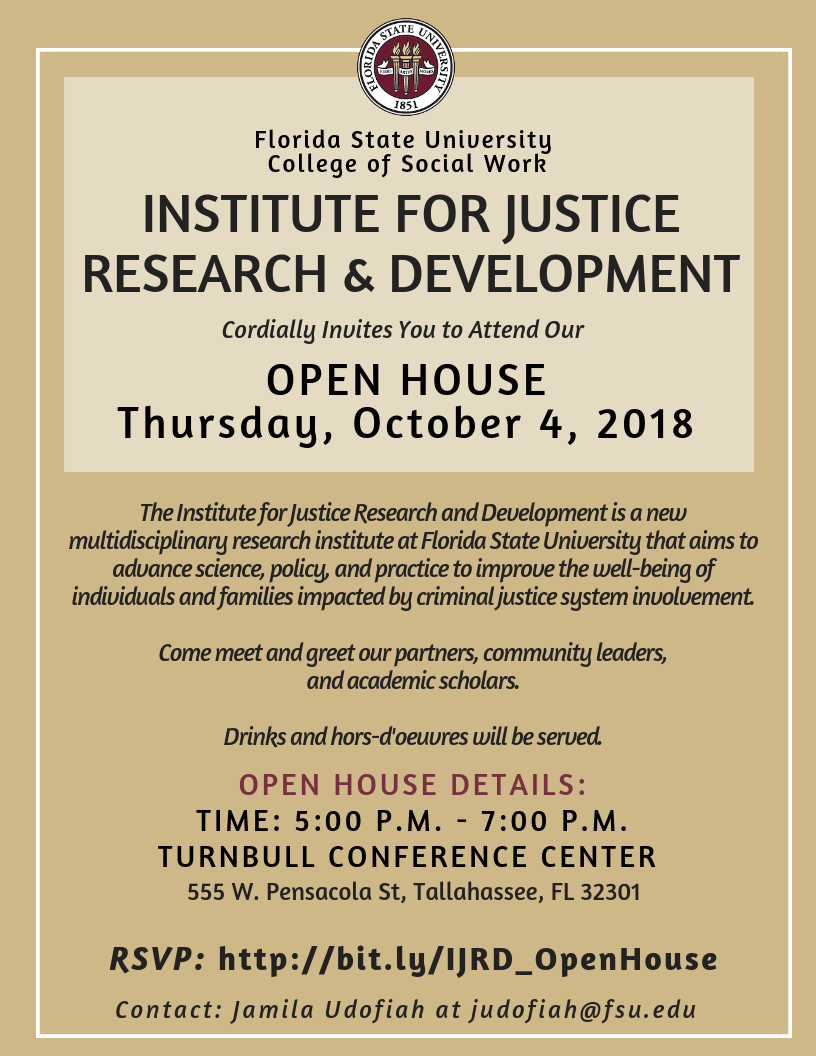 The IJRD will have its Open House on Thursday, October 4th from 5 until 7 p.m. introducing the institute and its mission to the local FSU and Tallahassee communities. To attend, register at http://bit.ly/IJRD_OpenHouse or contact Jamila Udofiah (judofiah@fsu.edu).
To learn more about the Institute for Justice Research and Development's current and future research, visit https://ijrd.csw.fsu.edu.
Tuesday, September 11, 2018 - 02:00 PM
Last updated:
Tue, 09/18/2018 - 10:28 AM