Faculty Highlight: Katrina Boone, 20 Years with the College of Social Work
---
Faculty Highlight: Katrina Boone, 20 Years with the College of Social Work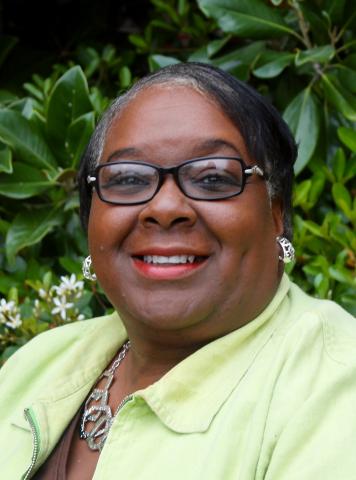 For more than twenty years, Katrina Boone has served as a faculty member at the FSU College of Social Work (CSW). She began her career at the CSW in August 2001 as a lecturer teaching classes for the BSW and MSW programs. After two years as a lecturer, Katrina was promoted to assistant director of Field Education. In 2005, Katrina became the director of Field Education and has served in this position for 16 years.  
As the director of Field Education, she leads her team in successfully providing field education opportunities for all BSW and MSW students at FSU. Keeping to heart the idea that field education is social work's signature pedagogy, Katrina works to ensure that field placements meet requirements set out by the Council on Social Work Education while also being responsive to student needs and priorities. Katrina and a team of staff and field instructors work with a growing team of agencies and field educators to establish new placement opportunities for students to work with agencies in Florida and Georgia and across the country.
Sometimes her role also requires a bit of problem-solving. During and following the COVID-19 pandemic, Katrina's and her teams' efforts were critical in helping agencies and students adapt to provide safe field placements in virtual, hybrid and in-person settings. 
"The pandemic impacted our lives in many ways. One area was our internships. Our field partners were challenged to meet the needs of their clients and our students," reflected Katrina. "Because of our commitment to student learning, the CSW field team pivoted quickly and developed a plan of action to accommodate students in the field to meet requirements and to assist students in meeting their academic goals. Field is an evolving process, and change is inevitable for social workers. We are change agents and thankful we are able to maneuver and adjust as needed."
Katrina's passion for social work and quality field education for students has also guided her to pursue opportunities to aid the growth and development of field education to remain current on significant trends and innovative field practices. Katrina has remained an active member of the Council on Social Work Education (CSWE) and has served on its and Council of Field Education since 2016.
As an educator and leader, Katrina is also an enthusiastic advocate for inclusion and diversity, especially in social work, a profession that serves a variety of vulnerable populations. In 2020, she was appointed to CSWE's Task Force to Advance Anti-Racism Work Group. The Task Force was tasked with developing an action plan to enhance social work education by adopting anti-racism pedagogy and learning environments for social work students, faculty and staff.
"Serving on the task force was an honor and excellent opportunity to make social work education stronger by beginning the critical work of enhancing anti-racism," she explained. CSWE's emphasis on inclusion and diversity has continued into 2021 with its Annual Program Meeting focused on Racial, Economic and Environmental Justice."
Katrina was also appointed in 2020 as the Field Committee chair for the Association of Baccalaureate Social Work Program Directors, her first leadership role with the organization. She also serves as a member of the Florida Field Consortium, comprised of field education directors and coordinators from 13 social work programs throughout Florida. Through the consortium, she plays a role in the guidance field education at the state level. Katrina noted that a key part of this group during the pandemic was adapting field education structures, policies and addressing issues related to internship operations. 
"It is so rewarding to contribute to the professional growth and development of students," Katrina said when describing the favorite part of her role. "It's particularly exciting to participate in the student learning processes as they connect the dots between their coursework and their field experiences, toward understanding the social work profession, and who they will become as future social workers." She also enjoys matching students to field placements that allow students to develop their skills to the best of their abilities.
She is not only an enthusiastic social work educator and practitioner, but she is a proud FSU graduate! She earned both her BSW (1983) and MSW (1985) degrees at the FSU College of Social Work. She became a social worker due to a personal experience witnessing a medical social worker aiding her maternal grandparents through a challenging time in their lives when she was a teenager. The social worker provided home-based services, determined additional services were needed and connected them to these services. Katrina remembered how much the social worker helped her grandparents and their appreciation. This experience prompted Katrina to investigate careers in social work. The more she learned the more she realized that a job in social work was her calling.
Before joining the College of Social Work, Katrina had an extensive career in social work. She held a wide range of clinical and management positions, including supervisory, program manager, and clinical director positions. She supervised social work students in their field placements and provided continuing education training for practicing social workers. These experiences are what interested her in social work education, particularly field education. She appreciated how important field experience was in social work education. 
With her wealth of knowledge and experience, Katrina continues to guide students and work with field instructors and community partners to provide superior field education experiences in social work. The field education program at FSU CSW is held in high regard among local, state, and national collaborators and stakeholders, primarily due to her leadership and commitment to field education. She has also made calculable contributions to field professional development of future social workers.     
Outside of FSU, her other passions include her family, travel, event planning, and reading mystery novels. She is also a mentor in her personal life as godmother to five children of family friends and to her nephew. She is honored to serve in this role and takes the responsibility of guiding children very seriously. Two of her godchildren have earned baccalaureate degrees, one godchild earned an associates' degree, and her nephew is a current student at FAMU. Given her educational and professional achievements, Katrina inspires and is a role model for people of all ages.
Tuesday, October 19, 2021 - 08:39 AM
Last updated:
Wed, 09/20/2023 - 03:06 PM